What is Pushback Pallet Racking?
Pushback racking is a type of pallet storage system that allows pallets to be stored on both sides of an aisle, providing higher density storage than other pallet rack systems.  A pushback rack system is a LIFO system, normally composed of an inclined rail section that extends the full depth of the storage lane (typically from 2 – 6 pallets deep).  There are a series of nested carts that the pallets rest on top of that roll on the rail system (either C channel or tube construction).
Improves existing warehouse storage density up to 25% by eliminating aisles
Stores multiple SKU's
Front loading/unloading capabilities reduce labor costs
Used extensively in grocery, cold storage, consumer products, food & beverage and other industries where there are high pallet counts, mid-level SKU counts and a need to densify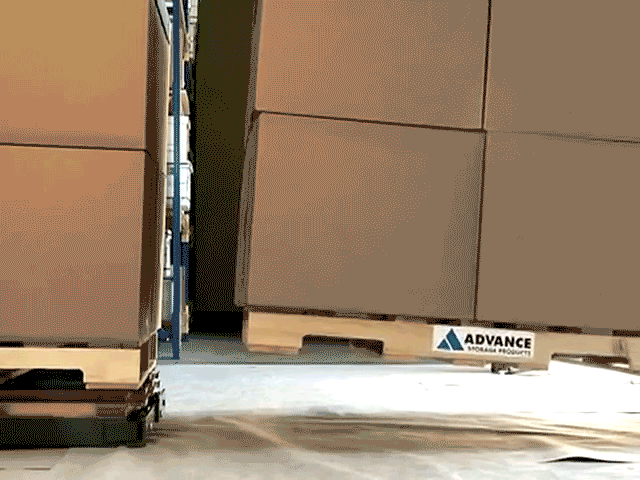 Advance's Lo-Pro™ Pushback
As the industry's leading manufacturer of pushback systems, Advance produces nearly half of the systems sold in the United States.  Advance's Lo-Pro™ pallet rack system is recognized as the "gold standard" for low stack height, ease of installation, ease of operation, quality and durability.
Lo-Pro™ Pushback warehouse systems are used extensively in high-cube storage facilities and provide superior selectivity and cost benefits when compared with other deep warehouse storage alternatives.  Advance Storage Products' pushback rack systems are available 2 – 6 deep.
How does pushback racking work?
When the first pallet is loaded from the front, it sits on the first cart in the lane.  When the second pallet is loaded, the first pallet "pushes back" behind it one position.  The second pallet is then either placed on the rail in a two deep system or placed on the next cart in a 3-6 deep system.  This process continues until the lane is full up to six pallets deep.
To remove a pallet, the fork truck driver lifts the pallet off, reverses slowly and the next pallet comes forward and into the front position.  This operation is repeated until the lane is empty.
Pushback Advantages:
Pushback Applications:
Food Manufacturing & Distribution
High Seismic Areas
Industries with high pallet counts / mid-level SKU counts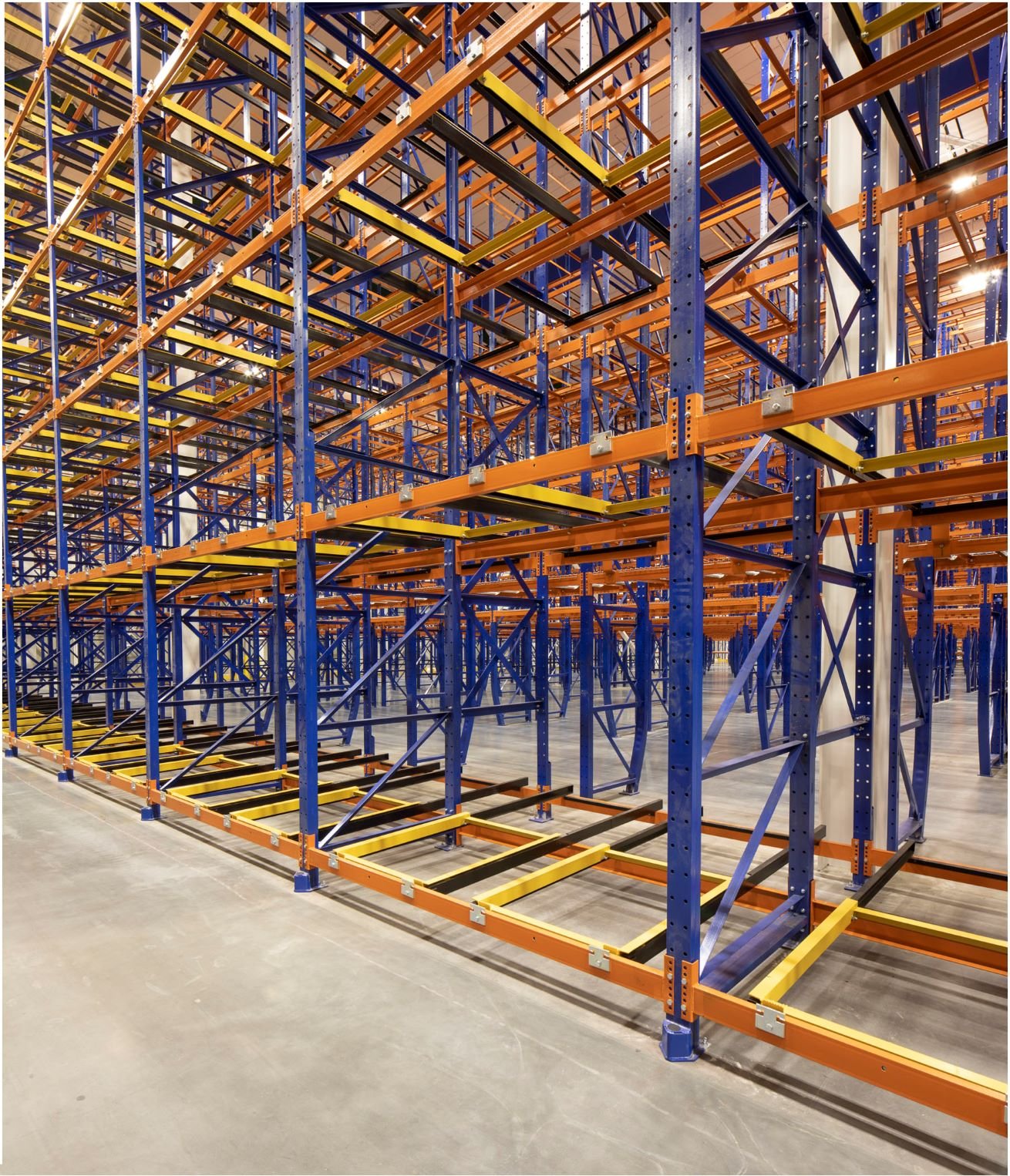 Pushback Features:
Linked Carts:  Eliminates the possibility of a load being stranded and suddenly rolling out of control.
Serrated Pallet Grips:  

Allows imperfect placement of pallets by "grabbing" the underside of the pallet
Ensures that the load remains properly positioned on the cart.

Captured Carts:  Prevents cart lift-out by fork truck operators.
Low Profile:  The industry's lowest stack height measuring 6″ on the 6 – deep system.
Welded Rail Frame:  Rails are permanently aligned at the factory to prevent field misalignment and costly maintenance.
*Some options are full support and level carts
Request Pushback Racking Information and Get A Quote