Pushback pallet racking is a high density solution for warehouse and distribution centers.  Learn more about the different types of pushback systems below:
LoPro Pushback – Advance's LoPro pushback carts and rails are made from 3″ channel and 3/16 angle.  Carts are linked together to prevent separation and captured within the rail.  The Advance rail "bed frames" are a welded one-piece design.
Series III LoPro Pushback – A LoPro pushback system that costs less but are about 1″ taller than the LoPro Pushback.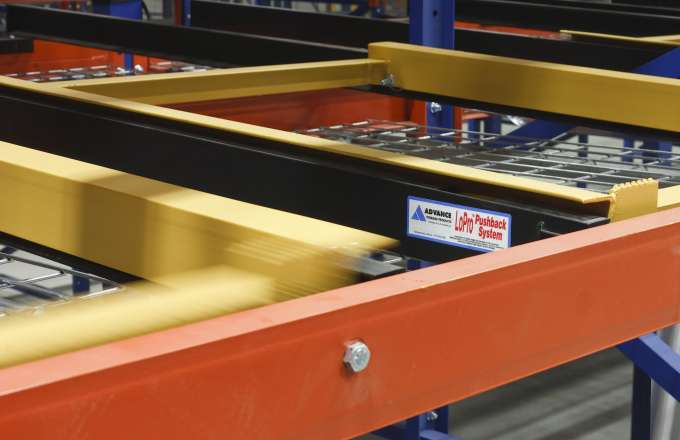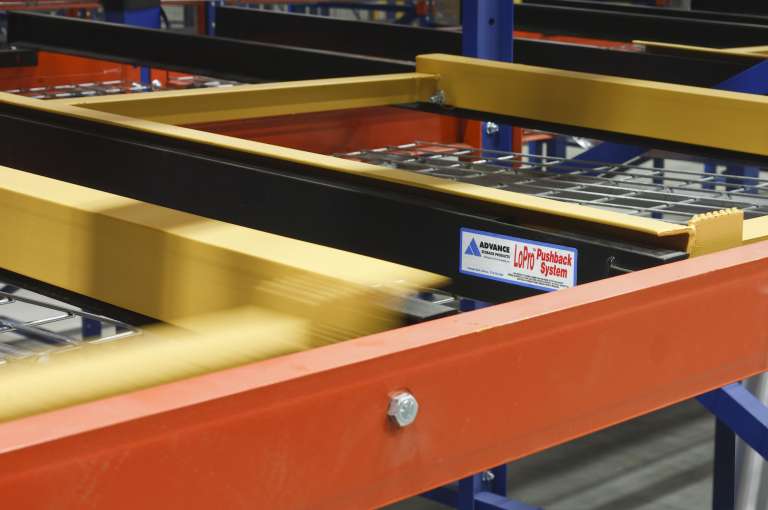 Structural Full Support Pushback Systems – Ideal for facilities that require maximum flexibility, 2-5 deep Full Support Pushback warehouse storage systems are designed or shipping and other light duty pallets.  Can be configured with extra struts or wire mesh deck to support a wide variety of pallet configurations.  In addition, Advance provides a pallet support in the last storage position between the rails.
Series 1 Full Support Pushback Systems – These lanes are primarily constructed of structural tubing and are available as picture frame, wire deck or 1″ bar grating.  Series 1 have a much lower profile than structural and the cart are NOT linked.
For more information on pushback racking or to get a quote on your next project contact us.