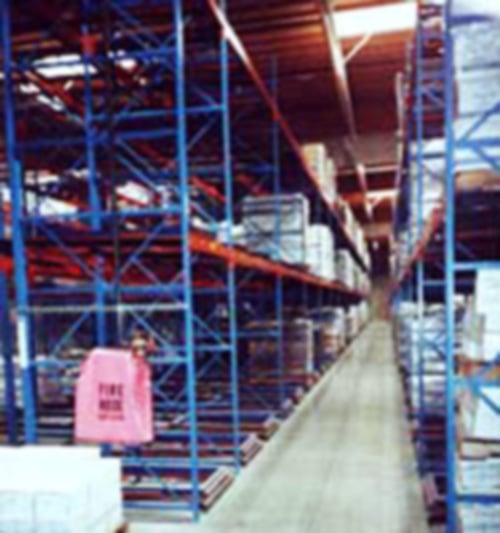 Advance Increases Throughput
The Advance Lo-Pro Pushback gave Vernon Warehouse the increased number of pallet postions they required and provided improved selectivity and greater ability to control a FIFO inventory.  The 3-deep layout with some selective rack fit perfectly into the new facility.
The Vernon Warehouse/Sweetener Products Company has been an innovator and industry leader in sweetener storage and handling since 1923.  Located near Los Angeles in the city of Vernon, California, Sweetener Products Company operates a state-of-the art warehouse and distribution center, supplying a large variety of nutritive sweeteners, starches, salts, soy products, shortenings, and other specialty items.  From bagged items to bulk truck quantities, Sweetener Products Company and its affiliated trucking company, Vernon Warehouse, offer a unique combination of products and services to the western region.
Vernon Warehouse Company employs well over 100 people.  The order picking system in the Vernon Warehouse is comprised of FMC Automated Storage and Retrieval Systems (ASRS) narrow-aisle trucks.  These forklifts automatically pick the pallet and set it in position for forklift operators in the dock area to load in the trucks.  This ASRS system has decreased the employer overhead, while at the same time lowering insurance premiums.
Hal Long, President of Vernon Warehouse, based his decision to expand their existing facility on the fact that they had been turning away some important business due to their limited throughput.  He recognized the need to get more organized control of their products, thereby increasing their throughput.  Installation of the Advance 3-deep Lo-Pro Pushback System eliminated the need to double-handle the product, while also improving the accuracy of their inventory control system.
When asked how he came to his decision to work with Advance Storage Products, Hal Long said that Advance had worked closely on the front end of the project and provided a pushback product that worked and flowed perfectly.  In addition, he felt that Advance addressed flow and capacity aspects that other vendors had overlooked.  The selection was easy.