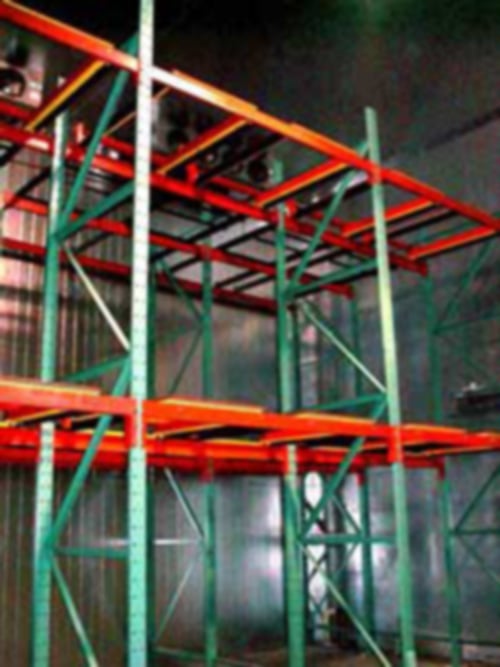 Fast Food – Dense Storage
McCabe's was able to achieve significant savings by utilizing Advance's retrofit 2 and 3 deep pushback system that easily converted their existing 2 and 3 deep drive-in rack to a new narrow aisle pushback system.
Advance Storage Products was recently chosen to provide a storage solution for McCabe's Quality Foods, Inc.  One of the nation's largest systems distributors, McCabe's distributes food and related products to fast food restaurants, including Burger King, Burgerville, Arby's and Wendy's in Oregon, Washington, Idaho, Canada, Mexico, Hawaii and the Far East.  McCabe's recently won Top Distribution Company of the year for Burger King.  Out of its corporate office in Portland, OR, McCabe's 100,000 square foot distribution facility wanted to maximize its storage capacity in order to go after more accounts thereby growing the company without having to seek a new location.
McCabe's converted their warehouse from a sit-down electric forklift and selective and drive-in rack configuration to a stand-up narrow aisle electric Reach truck and pushback rack layout.  McCabe's was provided with a new warehouse layout that increased their storage capacity by 33% more pallet positions, with better access for faster cycle turns.
Using the new layout, McCabe's was able to determine the type and quantity of forklift and racking required to fulfill their need for more storage.  They narrowed their choice to two potential vendors and proceeded to run cost and quality comparisons to determine their material handling partner.  A key determinant for McCabe's for the racking component of the project was a warehouse visit to "get a hands-on feel" for the rack and pushback system, according to McCabe's President and CEO, Joe Kemetz.  Mr. Kemetz and his operations manager, Steve Peil, agreed to a site visit to a large food distribution facility that used both of the brands they were considering.  Accompanied by Adel Santner of Advance Storage Products, the site visit turned out to be key to the success of the sale.  Adel was able to show McCabe's the advantages in the design and quality of the Andersen rack and Advance 2 and 3 deep Lo-Pro Pushback systems in a head-to-head comparison, which left a positive impression on McCabe's.
The tremendous savings in having the flexibility to retain some of the existing rack allowed the project to come in under budget and was crucial in the competitive price advantage of the Raymond truck, Andersen rack and Advance pushback solution.
With the extra storage capacity, McCabe's is now able to aggressively pursue new accounts and grow their thriving food distribution company in a competitive marketplace.