Selective pallet racking is commonly used in racking systems that accommodate flexibility in slotting design, which is ideal for high turnover, high SKU stock count and quick product accessibility. Single selective pallet rack is a cost-effective design that allows the maximum number of SKU pick facings in a standard rack and adds a number of throughput advantages to a warehouse including: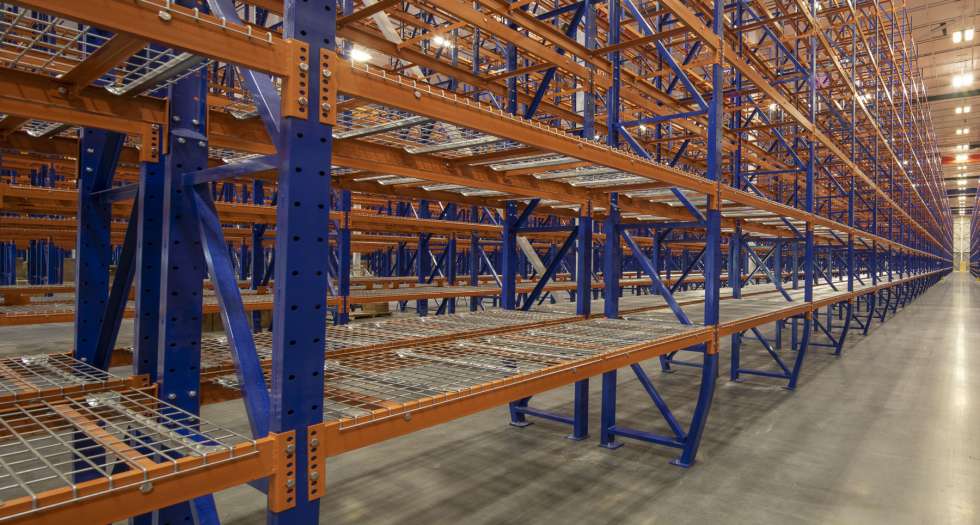 Low Cost Per Pallet Positions
Selective rack is the most common type of structural pallet racking and maintains the lowest upfront cost per pallet positions compared to other pallet racking systems. Low upfront costs and customized scalability make selective racking ideal for a wide variety of warehouse operation and throughput applications.
Full Selectivity And Direct Access To Each Pallet
Selective racking uses First-In-First-Out (FIFO) inventory management and provides immediate access to pallet positions, immediate inventory retrieval and flexibility in slotting design. Forklifts maintain direct access to a large, diverse SKU count and have the flexibility to adjust to changing market demands and inventory management requirements. Full selectivity allows the distribution center (DC) to keep up with changes in consumer demand without compromising inventory SKU arrangements inherent in other racking configurations.
Versatility in distribution is very beneficial to many industries effected by consistent evolution in inventory management needs. The ability to shift SKU types and slotting design gives a warehouse or distribution center to adjust to market demand in real time, which minimizes inventory turnover. This flexibility supports the increased need for same day delivery and ecommerce demand.
Easily Configured To Any Load Size
Distribution needs and SKU types and slotting requirements change frequently and selective structural pallet racking provides the ability to adjust to market changes and product demand. Ease of adjustability, full selectivity and direct access to a diverse SKU count provides an ease of scalability as the market grows and more pallet racking is required.
*Always check with a certified engineer to ensure components can solidly carry the load