2022 is turning out to be a most interesting year!  When we started planning for 2022 last fall, we expected to see bookings slow because of our long lead times.  Roll forward to July 2022 and our bookings (new orders) have continued to be at record levels with lead times now exceeding 25+ weeks.  We are currently booking many jobs into time slots in 2023.
You may ask, why don't we add capacity so we can take on more work?  In our GA plant we are running into constraints through a combination of physical facility limitations and general manufacturing labor availability.  To add significant more capacity, we will need to increase the size of the building (this is under evaluation but not a short term fix).  In Salt Lake we are setting the stage to open a second shift early next year which will provide 3-400 weld hours more capacity per week.  In both plants, we are proceeding very carefully to ensure that we continue to meet our commitments and maintain the excellent gains that the teams have made this year.
There is a great deal of discussion in the press about inflation and increasing costs.  I know that we are all feeling it at the gas pump and in the grocery store and Advance is struggling with that as well.  Over the years Advance has developed very good processes to protect ourselves for cost increases in Steel and Freight (two of our major costs).  With the unprecedented surge in other operating costs, we are seeing challenges in recovering all of the production cost increases incorporated into our shop rate.  We are in the process of adjusting our pricing models to work better in an inflationary, long lead time environment.  Fortunately with our volume and overall good practices we are maintaining good profitability levels and we do see room to improve.
We just completed the mid-year management review of our initiatives this week.  For the first time we have included the entire management team in the strategic planning process (we had 16+ people involved).  Each manager had to take responsibility for at least one VIG (very important goal) that would contribute to our 7 initiatives.  During the meeting, each manager was responsible for reporting their status to the team and I am very pleased with the progress that the team is making towards our goals.
As the team discussed where to focus for the rest of the year, there was a clear consensus to stay the course and keep focused on the initiatives that we have identified, especially on the integration and enhancement of the information systems (CSI and ACE).  I am excited about where we are as an organization and very much looking forward to continued success for the rest of the year.  If you have any project questions or are in need of a quote please contact the Advance Team.
Cheers!
John
John VR Krummell
President, CEO Advance Storage Products
[email protected]
Recent Projects
Below is another project recently completed for a grocery distributor in the Southeast.  31,752 pallet positions!
Automation Corner
Rover is a shuttle-based pallet storage and handling system that moves bi-directionally with no fixed aisle automation.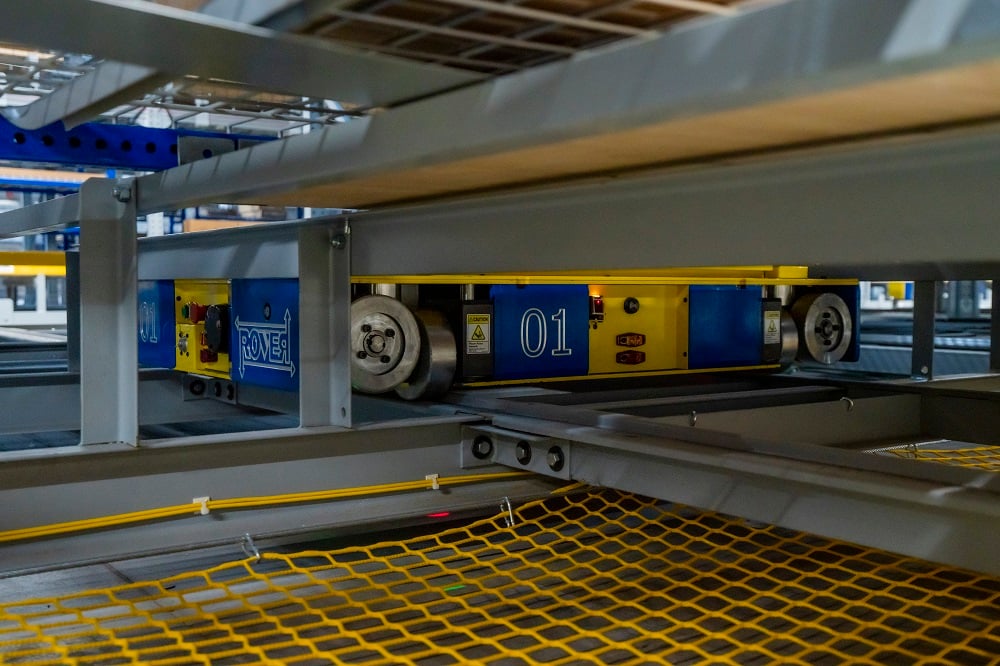 Unmatched Flexibility – Automated pallet handling to match any SKU profile.  Integration flexibility that can be designed around customer needs and facilities.
Scalable Growth – Increase throughput by adding Rover vehicles and add storage with additional racking to adjust storage according to demand.
Minimal Maintenance – The integrated system requires minimal maintenance during high throughput operations and allows for phased install in a warehouse.
No Single Point of Failure – If a Rover vehicle malfunctions, simply move it out of the way and another Rover will complete the job.
High Density | High Throughput – Rover automation system's typically create 15-20% more storage capacity than a selective rack warehouse.
Price Competitive to Other Automation – Cost per pallet is typically lower than traditional Automated Storage and Retrieval Systems (AS/RS).
Dynamic Picking | Order Staging | Pallet Storage | Pallet Transport | Pallet Delivery
Advance Team Road Update
Modex | MHEDA | IARW
Modex 2022:  Our team had a great time getting back to the tradeshow floor in Atlanta last March.  What a great time to reconnect with customers in person and to meet with new prospects to discuss ways we can help with their pallet racking projects.  MHEDA 2022 followed up Modex in April and provided an excellent opportunity to reconnect with our distributor partners across the country.
IARW-WFLO Convention: Advance will also be attending IARW 2022 in San Diego, CA, October 8 – 12.  Looking forward to learning more about current temperature-controlled storage needs and connecting during the Supplier Showcase.
Advance Blog
Latest news and industry insights for the material handling and racking industry.