At the start of 2020, I could never have imagined what a challenging year (on so many fronts) this year would prove to be.  Fortunately, through the tremendous effort of our team and outstanding cooperation and support from our customer community, Advance has emerged stronger than ever.  We maintained full operation at both plants and continue to support customer job sites with minimal interruption.  We have implemented a state-of-the-art electrostatic painting system in our Utah plant and Cedartown continues to be a rock-solid performer.  Also, our Automation Group (Advance Storage Automation/Rover) continues to grow and strengthen, commissioning several new projects this year.
Looking forward I am excited about what is to come in 2021.  New Order bookings have continued to be strong through 2020 and we will carry a strong production backlog into the new year.  We expect that both plants will be running at full speed in the first quarter and are planning to expand capacity to meet the increase in demand.  Our team will also be implementing phase one of a very cool estimating and CAD automation system that will allow us to develop 3D engineering designs and drawings in real time that will significantly speed up our design and support response time.
I feel a great sense of gratitude that through these tough times we have been fortunate to be part of a strong community of support that includes our suppliers, installation partners, all of our committed internal team members and most importantly our dedicated customer base.  Thank you to all and here is looking forward to a successful 2021!
John
John VR Krummell
President, CEO Advance Storage Products
[email protected]
Recent Projects
Our team is finishing up this single selective and pushback racking project for a food and beverage distributor in the South.  This project consists of 12 rows of single selective, 9 rows of 2 deep pushback and 29 rows of 3 deep pushback racking.
Over 50,000 pallet positions!
The combination of single selective, 2 deep pushback and 3 deep pushback pallet racking provides both high density storage and selectivity for a large product mix in both dry and refrigerated storage areas.  This customer will be utilizing single selective racking for case and pallet picking operations and pushback for high density pallet storage.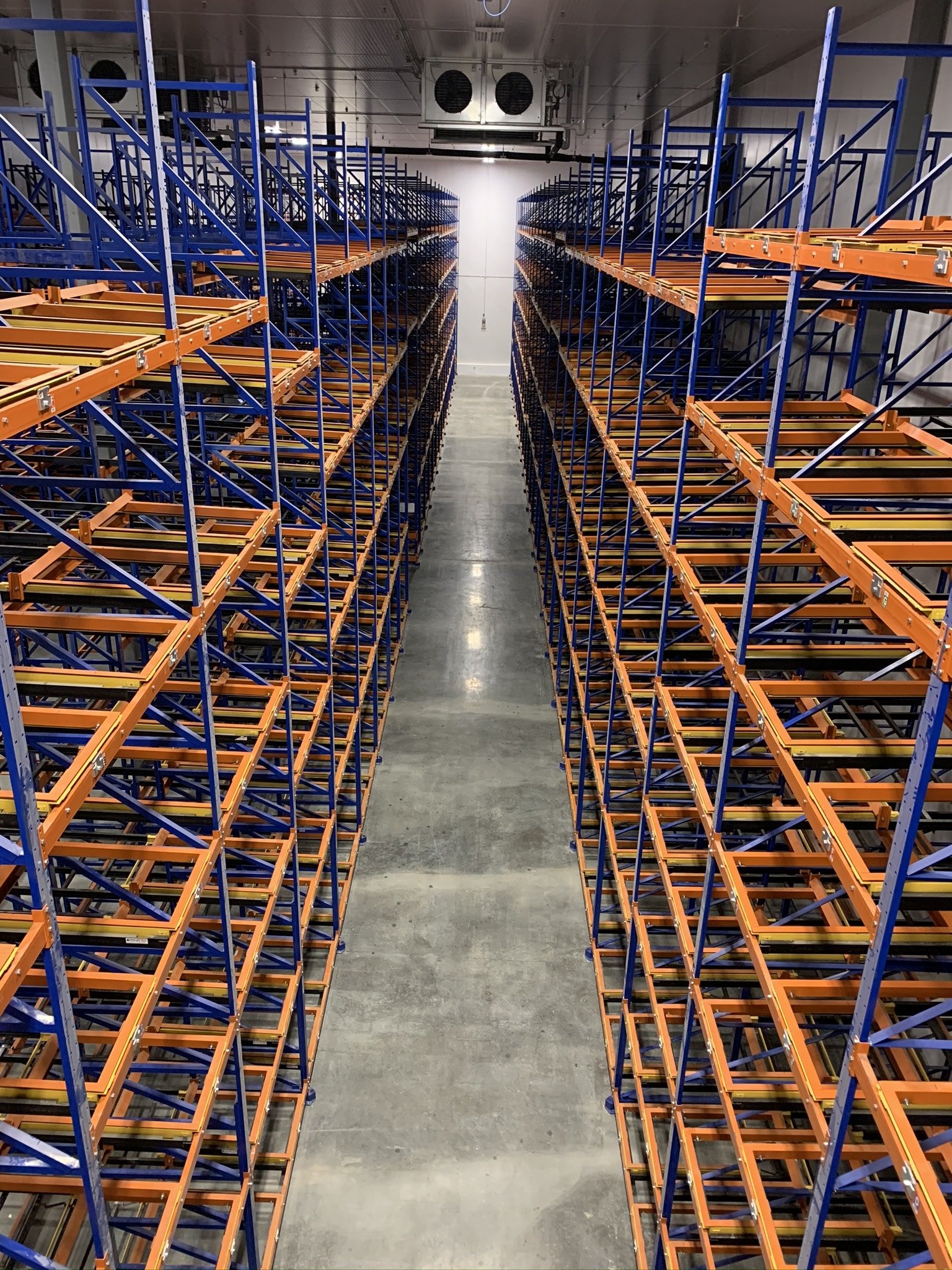 Below is another project for a grocery distributor in the Southeast where the Advance team is currently replacing old rack with new single and double deep selective racking.  This grocery application consists of over 7,000 pallet positions for groceries and 1,688 pallet positions in a perishable room.  Selective racking provides the accessibility and SKU configuration that this customer needs.
9,484 total pallet positions.
Advance Storage Automation
Take a look at updates from Advance Storage Automation and learn more about how Rover can benefit your warehouse operation.
ROVER

  Food & Beverage Application
This video features many functions of the Rover system including pallet storage, dynamic picking, pallet transport, pre-order staging and pallet delivery.
Rover automation solutions are designed around customer needs and available storage space.  Our automated system is able to match any SKU profile, can be reconfigured depending on storage needs and provides flexible placement of the Infeed and Outfeed stations anywhere on the racking grid.
Advance Blog
Latest news and industry insights for the material handling and racking industry.